Eating
at the Moliets campsite
Boulevard de l'Océan, at the entrance of the campsite between cork oaks, pines and small shops, Les Cigales restaurant offers pizzas, tapas and a menu of traditional dishes inspired by the Landes terroir : a stone's throw from the ocean, you can enjoy homemade burgers and fries, but also fine pies, kebabs land and sea, pasta of hot goat, leg of lamb and ribs, squid ink or cod terrines. A little further away, just a few meters from the beach, the Grill de l'Océan invites you to share a moment of relaxation around local specialties and fresh seafood: Landaise salad, Landes duck confit, wild turbot grilled or parillada of fish from the market.

A gastronomic establishment, the Grill de l'Océan offers every day mid-day special menus of the day at very reasonable prices. On the land side, the brewery La Table du Golfeur invites you to share tapas, grilled meats, salads, omelettes, tartares, meat and fish dishes in a warm atmosphere in the heart of the Moliets golf course.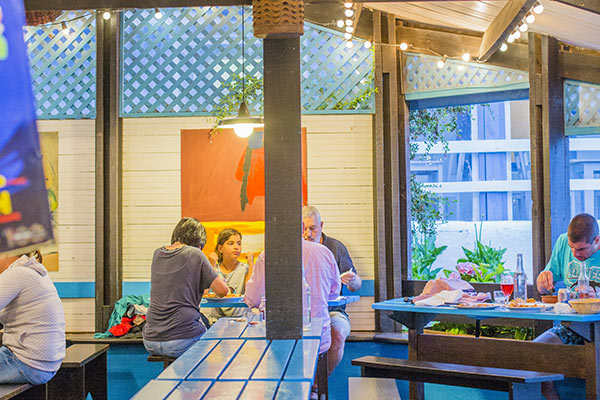 Restaurants
with outdoor terrace
Ideally located, the campsite Les Cigales allows you to relax on the most beautiful restaurant terraces : on the bustling boulevard of the Ocean, on the beach or in the exceptional setting of the golf Moliets, you enjoy the magic of the great spaces and conviviality of the Landes cuisine. With friends or family, the terraces of the surrounding establishments invite you to share moments of pure relaxation that contribute to make your holidays unforgettable. The restaurant Les Cigales also welcomes you for a simple Mojito on the terrace, during the day or in the evening.
Several restaurants are located close to the campsite in Moliets-et-Maa:
"Les Cigales" (Pizzeria)
"La Table du Golfeur" (The Golfer's Table' ; Traditional cuisine)
"Le grill de L'Océan" ('The Ocean Grill' ; Traditional cuisine)